Rogan Josh and Saag Aloo
(Lamb Stew and Spinach with Potatoes)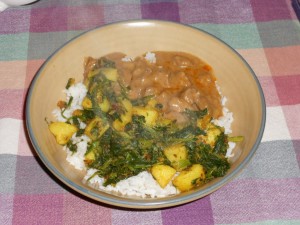 Over the summer I bought some lamb from Sheepy Hollow at Native Oaks Farm when I was at the Midtown Farmer's Market.  Last week I finally got around to using it.  And now I am finally typing up the recipes.  These are gluten-free and dairy-free versions of two classic Indian dishes.  I served them with basmati rice.
Rogan Josh
adapted from recipes found in Madhur Jaffrey's Indian Cooking (1982), Good Cooking from India by Shahnaz Mehta with Joan Bravo Korenblit (1981), and on the jar of Rogan Josh spice blend from Penzey's Spices.
Rogan Josh is a popular lamb dish from Northern India/Persia/Kashmir.
This recipe makes 6-8 servings; can be halved.
Ingredients
2 lb. lamb shoulder or stew beef, cut into small cubes (1/2″-3/4″)
2 Tablespoons vegetable oil, divided
1 large onion, thinly sliced
2″ piece of ginger root, peeled & grated
3-4 cloves garlic, minced
2-4 Tablespoons Rogan Josh seasoning (see note)
1 teaspoon salt
1/2-1 cup water (see note)
1/2 cup coconut milk (see note)
2 Tablespoons coconut manna (optional)
Directions
Preheat oven to 350°F.
Heat a Dutch oven (or other large pan that can go from stovetop to oven) over medium-high heat. Brown the lamb in 1 Tablespoon of the oil.  Remove the meat.
Add 1 Tablespoon oil to the pan.  Add onions and sauté for several minutes, until transparent.
Add Rogan Josh seasoning, salt, ginger, and garlic and sauté for 1-2 minutes.
Return meat to pan. Slowly blend in water, coconut milk, and coconut manna.  Bring to a simmer.
Cover and place in the pre-heated oven.  Cook for 1-2 hours or until very tender.  Stir occasionally and add more water if necessary.
Notes
Rogan Josh seasoning is a blend of paprika, garlic, ginger, cumin, coriander, black pepper, cayenne pepper, cinnamon, cardamom, cloves, and saffron.  I buy mine at Penzey's Spices.  Feel free to create your own blend from a combination of these spices.
The original recipe used yogurt instead of coconut milk & coconut manna.  This recipe is a dairy-free version.  I use Nutiva Coconut Manna™.
You may want start with a smaller amount of water and add more later if needed.  If the sauce seems too thin after cooking, you can always thicken it a bit before serving.  Simply return the pan to the stovetop and stir in 1-2 Tablespoons of flour mixed with 2-3 Tablespoons of cold water. (I use a gluten-free flour blend, but any standard "thickener" will do (arrowroot starch, corn starch, etc.).  Heat & stir until thickened.
While the Rogan Josh is in the oven, prepare the Saag Aloo.
Saag Aloo
(Indian Spinach and Potatoes)
adapted from recipes found in Madhur Jaffrey's Indian Cooking (1982), Good Cooking from India by Shahnaz Mehta with Joan Bravo Korenblit (1981), and the local coop sale flyer
Serves 4-5
Ingredients
10 ounces fresh or frozen spinach
1 pound potatoes
4 Tablespoons oil
1 cup yellow onion, diced
1/2-1 fresh jalapeño pepper, minced
2 cloves garlic, minced
1/2 teaspoon ground turmeric
1/2 teaspoon ground cumin
1 teaspoon ground coriander
1/2 teaspoon garam masala
1/2 teaspoon salt
2 Tablespoons lime or lemon juice
3 Tablespoons water
 Directions
If using fresh spinach, chop roughly, then sauté in a bit of oil until wilted.  If using frozen spinach, thaw and drain using a sieve or by squeezing in your hand to remove most of the water; then heat in microwave or sauté pan.
 In a medium-sized pot bring 1-2 quarts of salted water to a boil.  Peel and cut the potatoes into bite-sized chunks; add them to the boiling water and cook for about 7 minutes.  (You're just parboiling them; they will cook more in the skillet.) Remove them from the heat, drain, and set aside.
Heat the oil in a large skillet over medium-high heat.  Add the onions and pepper and sauté for a few minutes until limp.  Add the parboiled potatoes and fry for about 8-12 minutes or until they begin to brown.  Turn down the heat;   Add the garlic and spices; sauté for 1-2 minutes until fragrant.  Add the spinach, lime/lemon juice and water; cook, stirring frequently, until all is combined and hot. Serve hot.
©2012 Lucinda DeWitt