Gluten-free Dairy-free Cranberry Orange Quick Bread
The refreshing taste of orange combines with the tartness of cranberries to make a delicious breakfast bread that's good enough to be dessert too!!
[adapted from the Cranberry Nut Bread recipe in Annalise Roberts' Gluten-Free Baking Classics, Second Edition, 2008]
Ingredients
2 cups flour (I use Bob's 1:1 Gluten Free Baking Flour) (see note below)
1 cup sugar
1 teaspoon baking soda
1 teaspoon cream of tartar (see note below)
1 teaspoon salt
1/4 cup oil
3/4 cup orange juice
1 egg, well beaten
2 cups fresh cranberries, coarsely chopped (may use frozen berries)
1/2 cup finely chopped walnuts
1 Tbs. orange zest (optional)
Instructions
Preheat oven to 350° F.  Grease a 9×5″ loaf pan then line it with parchment (see note below). Lightly grease the parchment (not absolutely necessary but helps prevent sticking).
Whisk all dry ingredients together in a large bowl.
In a separate bowl, combine oil, orange juice, egg, and orange rind (if using).
Pour wet ingredients into dry ingredients, stirring to mix just enough get everything moistened.  Carefully fold in the nuts & cranberries.
Spread into your prepared loaf pan.  Sprinkle some granulated sugar on top (optional but gives a yummy crunchy top).
Bake for 50 – 60 minutes, rotating at about the 30 minute mark. Test for doneness with a toothpick. It should come out clean.
Let pan sit on wire rack for about 15 minutes, then lift bread out of pan with parchment handles and cool completely before slicing.
Notes
Bob's 1:1 GF Baking Flour contains xanthan gum.  If you are using another blend that does not contain gum, add 1 teaspoon of either xanthan or guar gum to the dry ingredients.
I no longer use baking powder because most brands contain corn starch (and I have a corn allergy).  I use a blend of baking soda and cream of tartar as a substitute.  If you don't have cream of tartar and do have baking powder and baking soda you can use 1-1/2 teaspoons baking powder plus 1/2 teaspoon baking soda in place of the baking soda and cream of tartar listed in the recipe above. Send me a message if you want the formula for baking soda + cream of tartar = baking powder.  It's a bit complicated because the corn starch is just a filler, so you're really only replacing the other aspects of the baking powder.
If you use an 8″x12″ piece of parchment it will fit nicely and give you "handles" on the sides to help remove the bread from the pan later.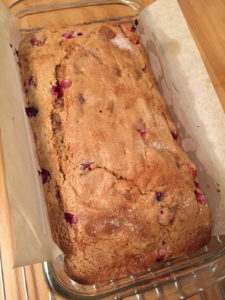 ©2018 Lucinda DeWitt